C & W Cleaning Services are a family run carpet and rug cleaning business in Edinburgh, established since 1983. We specialise in Blind Cleaning and Carpet and Upholstery Cleaning, including spot removal and rug cleaning. We have been Members of NCCA since 1985. All our work is fully insured.
Blind Cleaning – Commercial and Residential.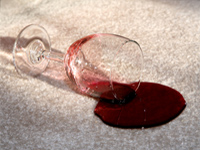 No job is too big or too small. At C & W Cleaning Services we use an ultrasound method to clean blinds. This is a fast, efficient method of blind cleaning therefore blinds can be uplifted and returned same day, or (for larger numbers) uplifted one evening and returned the following morning (particularly useful to our business clients).
Carpet & Upholstery Cleaning – Commercial and Residential.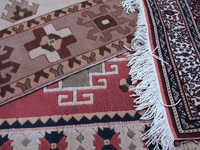 All our C & W Cleaning Services technicians are NCCA trained and we use only the latest technology and equipment to bring your carpets and upholstery back to life. We are happy to provide an out of hour's service and can provide maintenance programmes for on-going carpet cleaning management.
C & W Cleaning Services operate carpet & rug cleaning in Edinburgh, Lothian's and Borders.
A freshly cleaned carpet can completely reinvigorate your space. From banishing nasty canine niffs to collecting the ground in dirt that accumulates every day, carpet cleaning in Edinburgh has never been so good. At CW Cleaning services we know that a deep clean leaves your family and carpets in a better place, so why not pick up the phone and ring today to see what we can do for you?

Your carpets are a big investment of both time and money, but they also take the brunt of wear and tear each and every day. Muddy pet paws, wet shoes and spills all take their toll, grinding in dirt. Want to make sure your investment lasts? Ring us today to receive the best carpet cleaning Edinburgh has to offer.

So, if you have a need for carpet cleaning in Edinburgh, call today on 0800 695 1101 for a free, no-obligation quote to receive the best guaranteed carpet cleaning service. With our happy and friendly service, we will be glad to guide you through the options. After our expert carpet cleaning Edinburgh residents will be much happier, and their carpets will stay fresher and healthier for longer.
Contact us at
0131 334 2080 (City Centre)
08006 951 103 (Livingston / West Lothian)
08006 951 102 (East Lothian)
01968 673084 (Peebles / Borders)

Call us for a free no obligation quote:
08006 951 101

Head Office
C&W Cleaning Services
31 Clerk Road
PENICUIK
EH26 9HB
Tel: 01968 673 084
Fax: 01968 670 735
Email: kpmiddleton@gmail.com
For more information please contact us.